New Study Finds Consumers Want More 3D Content Options at Home
Parks Associates recently released 3D TVs: Adoption, Use, and Purchase Intentions as part of its Connected CE and Platforms research service. The study includes a survey of over 600 3D TV owners and found 56% were "very satisfied" with their TV's 3D features. In addition to more 3D movies, 49% of consumers surveyed want more 3DTV program options, and 45% want more 3D games.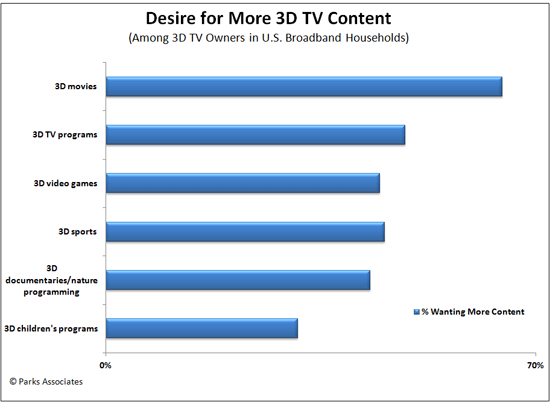 "People who have a 3D TV set use it, like it, and want more content for it," said John Barrett, Director, Consumer Analytics, Parks Associates. The latest Parks Associates figures show just 6% of U.S. broadband households have a 3D TV. "Don't blame the technology. Prices are still too high, and the amount of content is still too low."
Barrett also said expectations for 3D should be revised. "The industry needs to stop comparing 3D to HD. Consumers are never going to watch everything in 3D. They will watch the occasional program in 3D if the content is compelling, but 2D will always be the default."
Parks Associates will discuss 3D consumer research and other interactive technologies in the session "The Human TV Remote: Gesture and Voice Recognition" at CONNECTIONS™: The Digital Living Conference and Showcase, June 5-7, co-located with TIA 2012 in Dallas, Texas.
Parks Associates' Connected CE and Platforms service analyzes market trends for connected CE devices including smart TVs, connected Blu-ray players, streaming media players/digital media receivers, game consoles, connected DVRs, and computers. Each quarter, Parks Associates covers a particular topic relevant to the connected CE space.
For more information, visit http://www.parksassociates.com or contact 972-490-1113, [email protected].
More information about CONNECTIONS™ at TIA can be found at www.connectionsconference.com.
About Parks Associates: Parks Associates is an internationally recognized market research and consulting company specializing in emerging consumer technology products and services. Founded in 1986, Parks Associates creates research capital for companies ranging from Fortune 500 to small start-ups through market reports, primary studies, consumer research, custom research, workshops, executive conferences, and annual service subscriptions.
The company's expertise includes digital media and platforms, entertainment and gaming, home networks, Internet and television services, digital health, mobile applications and services, support services, consumer apps, advanced advertising, consumer electronics, energy management, and home control systems and security.
Each year, Parks Associates hosts industry webcasts, the CONNECTIONS™ Conference Series, and Smart Energy Summit: Engaging the Consumer.